Well, Sunday night I just couldn't sleep. After tossing and turning, I went down to my work room and started mucking with a Soom Namu practice head that I'd bought some months back. To be honest, it wasn't a head I really liked--it was scratched, it had the pointiest nose and distinct eyefolds. But I got it inexpensively, so I figured it was a good piece to start on--I could improvise with abandon.
This is not my doll, but it give an idea of the pointiness of the nose...imagine this, with a bad faceup. Luckily, the face cleaned up easily.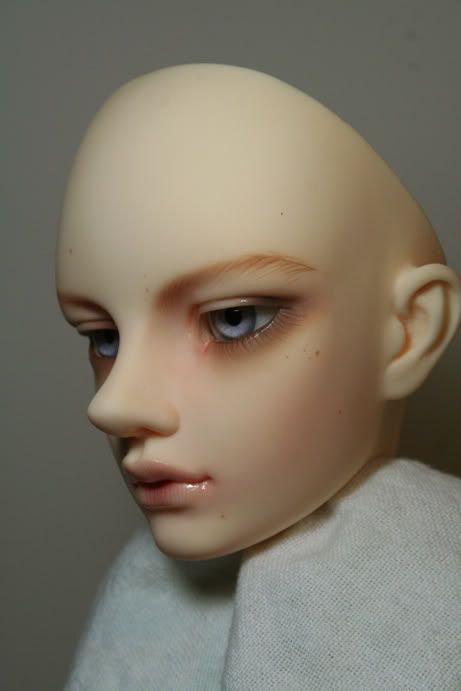 The first thing I did was haul out the dremel--and slice down that nose. Using a very fine bit, I found it easy to get a rough cut on a nose shape I liked. I started fine sanding with a nail board, then I remembered I had a set of Japanese polishing papers that I'd bought for PMC clay. I tried that--and got amazing results. Feeling my success on the nose, I refined the shape of the eyelid, then I used the polishing papers to work off the scratches on the head.
What I ended up with was a face that looked like new--and in my eyes, much better than the original sculpt. It was pretty amazing how great it looked. I was truly surprised to see how much working it with very fine abrasives improved it. I was lucky--the head was not discolored, either.
Then I moved on to adding color. This time, I went for a very natural face. I felt that I was getting the hang of the technique of painting (my airbrush is not set up with a compressor yet)--but I am still stymied by caking of color--though now I'm careful to brush off any excess build up.
This evening, I put the doll on the only SD body I have--an Elfdoll. Unfortunately, the Soom resin is much lighter and greener. Still, I was amazed at how great it looked. I didn't do much to photograph it but use my point and shoot and it looked great. Here is the doll, wearing the gorgeous dress Bauhausfrau gave me last month for my b'day...I love the first wig, especially...and the green eyes look fabulous in person.
Which brings me to a dilemma. This was supposed to be a disposeable head that I could use to practice on, then pass along. Though I don't see this as a final faceup, my success is leaving me quite attached to her. However, she needs a body that matches her face.
Of course, none of this leaves me craving that Alice in Labyrinth face any less...c'est la vie, huh?